Why invest in Greencore?
Market Review
Scroll
Introduction
We operate in attractive markets that demonstrate strong underlying growth. Our markets are driven by structural trends that generate high returns with good growth opportunities. We are ideally positioned to address and take advantage of these trends.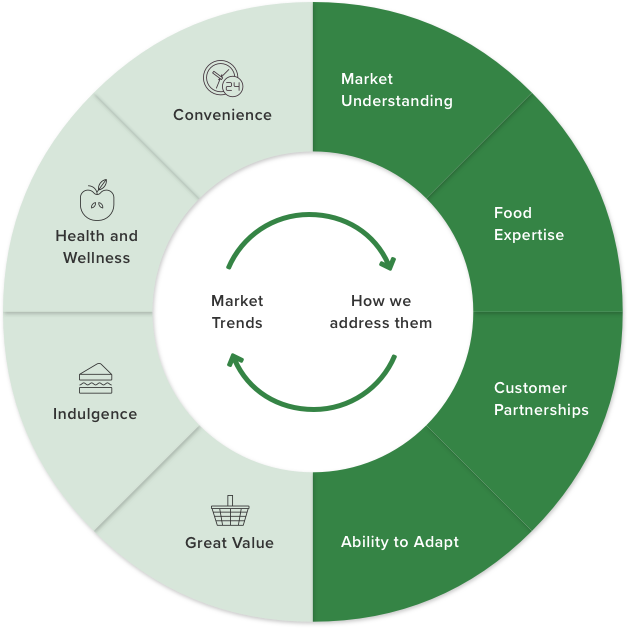 Market Trends
CONVENIENCE
Our society demands products and services that deliver quickly, make life easier, or both. In this environment, consumers are constantly seeking more and more convenience and will switch products or stores if they are not satisfied.
HEALTH AND WELLNESS
There are a proportion of consumers in each category that we operate in for which making a healthy choice is one of their top decision criteria, and a large majority for which it is at least a factor in the way they shop and consume.
INDULGENCE
We strongly believe that whatever the additional benefits we offer to consumers, our food should always fulfil this expectation and taste great.
GREAT VALUE
Value for money is top of mind for both our customers and our consumers. As there is enormous choice within the food industry, it is essential that a proposition represents value for money.
HOW WE ADDRESS THEM
MARKET UNDERSTANDING
Greencore has a deep understanding of market trends, an understanding of consumer and customer needs and the expertise within our team to convert these insights into winning products. As a key market leader Greencore is responsible for growing the market through product innovation, availability and supporting new format and channel growth strategies for its customers.
FOOD EXPERTISE
Greencore has a team of highly skilled and knowledgeable food and packaging experts that understand and shape current and future shopper and consumer trends. Greencore operates to the highest technical and food safety standards and is subject to rigorous internal and customer audits to ensure these standards are consistently met.
CUSTOMER PARTNERSHIPS
Greencore has deep, long-term partnerships with its customers, operating as an extension of our customers' brands to meet the needs and expectations of consumers. Through our expertise Greencore works on behalf of its customers to drive overall category growth and returns.
ABILITY TO ADAPT
The very nature of the product categories in which Greencore operates demands a high degree of operational and commercial flexibility to fulfil our customers' needs.