Find your future in food
Greencore has a turnover of £2.3bn and employs over 11,000 people. We produce over 2,300 product lines and are the market leader in the majority of our categories. We pride ourselves on having a passion for great food, world class business processes and exceptionally talented people working at our facilities across the UK and at our Head Office in Dublin.
We offer careers to talented people with a range of different skills and expertise to enable us to continue to grow as a business and innovate in the food sector.
Roles include: Operations, Engineering, IT, Marketing, Technical, Business Support, Purchasing, Human Resources, Health & Safety and Product Development.
When we ask our people what they like most about working at Greencore, they say "the opportunities"; opportunities to take responsibility early in their careers, to build their capability and skills, and to explore a wide range of roles and businesses across our Group.
But don't just take our word for it, select a role from the list below and hear it from them.
Business Improvement
Commercial
Engineering
Finance
Health Safety Environmental
HR
Hygiene
Business Support
Marketing
NPD
Operations
Product Development
IT
Supply Chain
Technical
Here's just one example of how you can progress at Greencore ... After a year with Greencore Food to Go, Sam Barker moved from a Picker to a Picker SME supporting the PALM project during rollout.
Show Sam's Story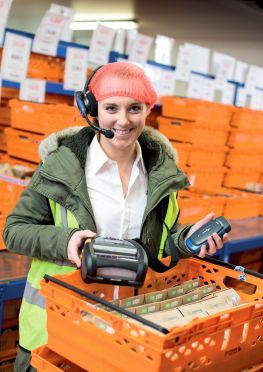 A Picker is a colleague who is responsible for working in the fridges in the warehouses and picking products as ordered by the customer; they also look after received goods, shelving-up duties and hygiene maintenance. As a Picker SME, Sam's duties moved from this to working on the specification of the voice solution to ensure it was fit for purpose – helping the depots get the best results from the technology.
"Change is a driving factor at Greencore right now," explains Sam.
"The PALM project is revolutionising the way we are operating as a business. Voice picking is integral to that, and to ensure success Greencore wanted to bring people in with personal frontline experience to assist in deployment – that's where I came in.
"It's very different from anything I've done before. I had in-depth training and I was supported by Voiteq's (our Voice Solution partner) system knowledge and David Richards' (Business Change Manager – PALM) experience of delivering business change. I then produced communication documents, such as reference guides, before training other pickers in our operations.
"We expect the roll-out of voice picking systems to have been completed by the end of this year – thereby making the paper system obsolete." So far, the introduction has been a success, with average pick rates increasing from 650 to just over 900 units an hour.
"Seeing these results has been incredibly rewarding – people who were unsure of the change have now embraced it wholeheartedly."
David was involved in bringing Sam into the PALM team and has worked closely with her ever since. "From her interview onwards I've been very impressed with Sam," explains David. "Her training background made her a good fit for the role, and it has been a pleasure to work in deployment services with Sam this year."